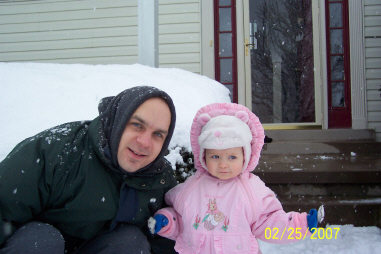 March 29, 2007: Life isn't too exciting here. Just doing shows, getting ready for sailing season and working hard. I did join the F.A.R.M. (Fauquier Aero Recreation Modelers) club. So I'm back to flying my airplanes. Pictures should follow. My music section was updated with new shows. Also, I added a sailing section (Jessica added).
May 22, 2006: I graduate with the 150th class of the University of Maryland with my doctorate in Philosophy of Engineering (sounds smart huh?)
March 14, 2004: A day which will live in infamy...Kevin actually updates the website...Kevin was on TV! The Canadian Discovery channel did a feature on GoldenEye, the UAV that Kevin works on at Aurora Flight Sciences. See the feature here (I don't know how long it will be up, so if this link doesn't work, you lose).
January 18, 2004: My ten year reunion was Thanksgiving weekend: See pics here...
Check out Music Section to see what Kevin is up to now/what he's been up to.
July 25, 2003
Goodbye CORE Lab
I cleaned out his old office in the CORE lab. Since Dr. Vizzini has left the lab will probably close, or at least be nothing like it used to be. How sad...