He was our 'Main Man'.
On May 28th, 2005, our beloved Ferret Ty (Tighty Whitey) passed away. He perished from an attack of demondex mites...his compromised immune system (he had insulinoma) couldn't fight off the attack and he died within two days...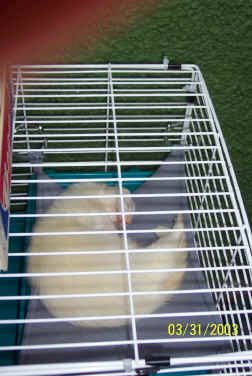 homecoming day
Ty came into our lives shortly after we adopted our girls Nilla and Dot. I remember going to the shelter and the lady showing me this cage of ferrets that she referred to as 'a riot'. Three dark eyed white ferrets and one black sable. The dark eyed whites, obviously were Nilla, Dot, and Ty. The black sable was a guy named Vegas. The lady at the shelter told me a the story of how she got these four very curious ferrets. Apparently, they belonged to someone that liked to 'collect' ferrets. They had no particular love for them...he just liked to collect all different kids of ferrets. He had all kinds of sables, albinos, dark eyed whites (DEWs), and cinnamons. Well...apparently he kept them all in cages with no time out for running (ferrets need to run). Well of course feeling caged, and frustrated, the ferrets took to gnawing on their cages. It soon explained Nilla, Dot, and Ty's wearing away of their teeth. Ty wasn't so bad as his sisters, he still had fangs...the girls had no fangs. However, unbeknowest to me and kevin, we though Ty was 3-5 years old...it turns out...when he was finally abandoned in a forest with ALL the ferrets this guy owned (he got tired of his 'hobby'), Ty was barely 1 year old.
So Ty's age, clearly explained his rambunctiousness. Ty loved to climb things and get into stuff...not so much get into as explore...However, I only wanted to start out with two ferrets, and the shelter lady agreed that the girls were much more laid back. So I took Nilla and Dot home with me. However, my thoughts always went back to the interesting boy (well two boys) I left behind. I would often call the shelter and update her on the girls and ask about the two boys.
Shortly after I adopted the girls, news on Tighty Whitey wasn't good. After the girls left, he got severly depresed and stopped eating. What made his depression worse was the sudden death of Vegas...his last remaining original cage mate. However, Ty's demeanor enabled him to get along with the roughest of ferrets. The shelter lady pleaded with him and Ty came out of his funk in order to stay alive. He came out of it so well, he gained all his weight back!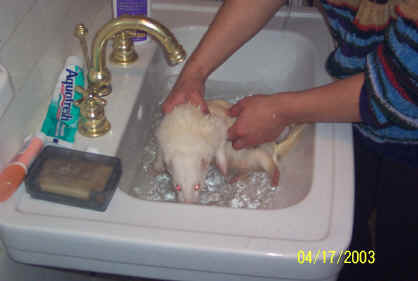 Ty's first bath with us...his eyes show he wasn't happy...
Months again, went by, and the shelter lady noticed what a waste it was to have a perfectly good 2 year old ferret like Ty just sitting in her shelter. She called me up and outright offered him to me. She said he really needed a home and he really missed the girls. At this point, I loved my girls so much and after hearing Ty's story, I couldn't resist...and Kevin being as cool as he is, couldn't say no.
In March of 2003, Ty (shortened by us) came home with us. He was happy to be reunited with 'his girls' and he took to our house right away. We however, were shocked...we suspected Ty was about the same size as our Nilla (who was kinda pudgy at the time). Ty however, was a whole pound bigger and in ferret, that's like double sized! When he slept with the girls, he acted as a blanket...he was just huge! It required bigger hammocks and more space. But every effort was worth it.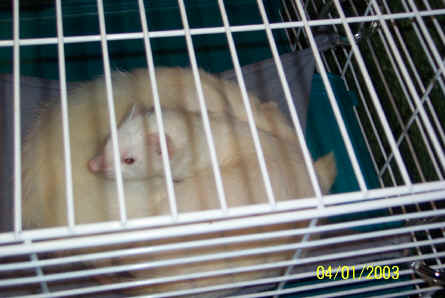 Ty and Dot...no comparison...
Ty quickly established himself as the 'softy' ferret. He was very much like a dog, following me around and looking at me through the plexiglass gate. Me and Kevin were his whole world. And all he wanted was to be with us. He also encouraged the girls to play just a big...although he was best at being a sloth. The most interesting thing about Ty, however, was he was our first hoarder. None of the girls really were into hiding things. Ty right away took to collecting tiny cat toy sized stuffed animals. His favorite we quickly determined was a snowman we dubbed Mr. Frosty. Usually Ty kept Frosty close to him.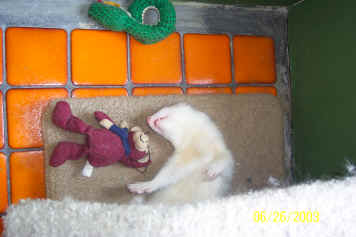 Ty was devoted to Mr. Frosty, but he liked collecting other stuffed animals too...