Sable's Thoughts
written in narrative form, from Sable's point of view...
I stay as close as I can to her. I watch her intently during this whole process...It was a lifetime ago, but I cannot forget what she goes through. I remember all too well in my last life...all the litters I had...all the children I bore. I know exactly what she is going through...I sensed that life inside of her before she even sensed it. I sensed it before the dog did. Occasionally, I will sit on or near her stomach and listen to the sounds inside of her...but mostly, I just want to be near her. Wherever she is, I am never far off. If she's in bed, I'm in there with her. If she sits on the couch, I sit on the back, right behind her. If she sits at her computer, I will sit at the window. I watch over her...just as she promised the great spirit guide, Moshe at my birth that she will watch over me, I promised I would watch over her. That I do.
However, this time, has not all been protection and watchfulness. I am a cat at heart...I do have...another job to do. Poor girl, she must be completely crazed by me now. I have taken to meowing incessently in the morning...and why shouldn't I? I am training her to feed me. Feed me and feed me now...that's what my meowing means. However, the girl doesn't like to be awaken by my meowing. She's turned my training against me...she's trying to train ME! The water bottle as come out and she's not afraid to show me she is the one spraying it. I've been told I cannot meow in the bed if I wish to lie in it. So, now I meow in the hallway, which caused the girl to improve her aim. So now...I wait until she first rises...however she doesn't always listen to my meowing...she goes about her business, and makes me wait for food. She is too smart too...she hears me eat at 4am (my dry food), she tells me I can wait. However, I do not wish to wait for the good food. But she does make me wait. This game we play sometimes causes us to argue...me with my claws, her with her voice. However, we never stay mad at each other long. I know she's emotional, and she knows...I am but a cat...
This child, when it is born, will be watched, not just by me, but by others...we will watch her, protect her, make sure no harm comes to her...we will help the girl take care of her. But we are animals, and we also don't want her or the boy to forget about us...so...I will continue to meow at 6am...as long as the girl promises to have the spray bottle ready...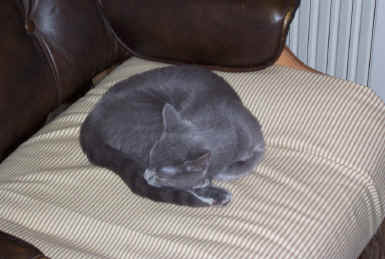 Shanti 'Sable' Nike in a more tranquil moment...when
she NOT meowing at 6am...